Hero Collection Sample Bundle
Regular price

Sale price

£7.95
We understand that finding the right skincare can be difficult, and that's a decision not to be taken lightly. 
To show that we believe in our products, we've created our Hero Collection Sample Bundle so you can try before you invest! Experience the luxury of our Hero Collection, from our #1 Brightening Cleanser, through to our #6 Pro Collagen Night Cream. We've got you covered from morning to night!
What's included – AM:
#1 Brightening Cleanser:

 

Gently cleanses and tightens pores while balancing pH levels. Enriched with ingredients such as neroli oil, glycolic acid and salicylic acid, this cleanser works to lift away excess oil and dead skin cells leaving skin dewy and brighter. This product leaves your skin thoroughly prepared and ready for the rest of your skincare routine.
#2 Vitamin C + Neroli Antioxidant Serum:

 

A powerful antioxidant serum that protects and preserves skin from environmental damage, helping to prevent premature ageing, discolouration, dullness and build a dewy complexion. Formulated with Vitamin C, Neroli oil, and Ferulic acid, it is the perfect addition to your morning routine.
#3 Neroli Day Cream + Sunscreen: The 

perfect finishing touch to your morning routine. Containing natural Neroli Oil, it helps to brighten and hydrate the skin while providing UVA/UVB protection with SPF20. This day cream leaves you with a glowing complexion, and gives you the ultimate protection and nourishment.
 What's included – PM:
#4 Green Tea Antioxidant Cleansing Oil:

 

An effective blend of green tea, red grape seed extract and Vitamin E to provide powerful antioxidant benefits. It melts away impurities, makeup and aids cell renewal, while also reducing inflammation and redness. This cleansing oil is gentle enough for every day use.
#5 Hyaluronic Acid Hydrating Serum:

 

A

 100% pure skincare solution containing high concentrations of hyaluronic acid, a powerful natural hydration booster. This carefully formulated serum helps to boost hydration, plump skin, reduce the appearance of fine lines and wrinkles, and replace lost water in the skin.
#6 Pro Collagen Night Cream: A regenerative overnight treatment designed to fight pollution and improve cellular health. Formulated with patented Dragosine®, an antioxidant peptide, and natural ingredients like cacao and hyaluronic acid, this luxurious cream nourishes skin for a vibrant and healthy appearance.
All Face Junkie products are vegan-friendly and cruelty-free.
Hurry, only 4 items left in stock!
Share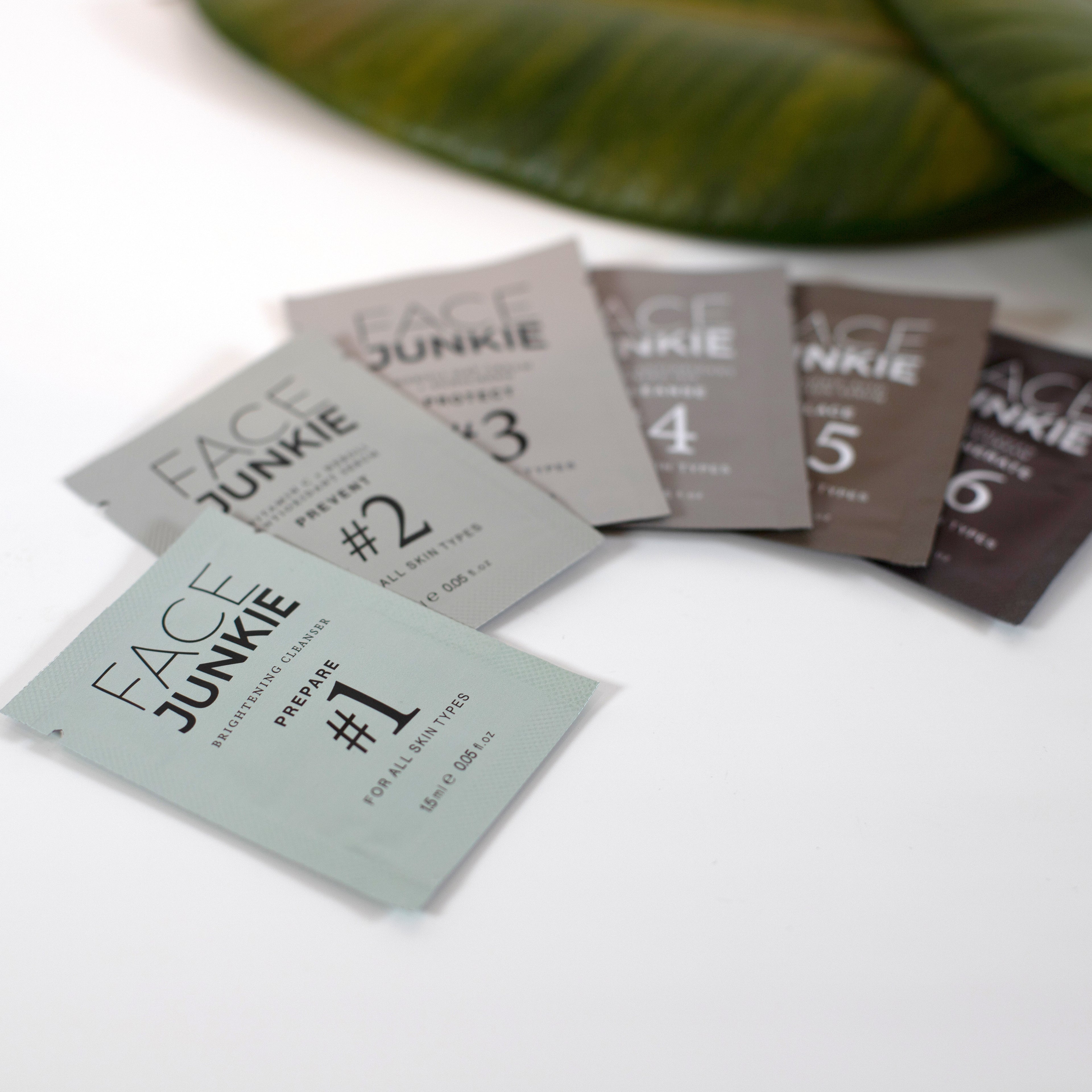 FAQs
Do your products contain palm oil or any other nasties?

At Face Junkie, we take pride in our dedication to crafting products that are free from palm oil and other harmful ingredients. We believe in transparency and ensuring that our formulations are clean, safe, and in harmony with both your skin and the environment.

Rest assured, our products are thoughtfully created with the utmost care, using only the finest ingredients sourced from nature. We prioritise your well-being, providing you with skincare solutions that are free from "nasties" and filled with the goodness your skin deserves.
Do your products contain artificial fragrances?

Each of our carefully crafted formulations are adorned with captivating scents derived directly from nature's botanical wonders. Our commitment to using pure natural fragrance ensures that you can delight in the aromatherapeutic benefits while experiencing the transformative power of our skincare.
Do your products contain allergens?

While all our products undergo rigorous safety testing to ensure they are safe for human use, we understand the importance of individual sensitivities. That's why we recommend performing a skin test, especially for products with active ingredients like Vitamin C and essential oils.

To ensure a personalised experience, we advise applying a small drop behind your ear and leaving it for at least 24 hours. This simple step allows you to assess any potential reactions and ensures that you can confidently incorporate our products into your skincare routine. Your skin's health and comfort are our utmost priority, and we are here to support you in making informed choices for your unique needs.
How should I store my products?

To maximise the efficacy and freshness of our products, we recommend storing them in a cool, dry environment, away from direct sunlight. This simple step ensures that the potent ingredients within our formulations maintain their effectiveness.

The exception being our #2 Vitamin C + Neroli Antioxidant Serum which we suggest keeping in the refrigerator, as the cool temperature helps to prolong its potency and ensure you reap the full benefits. Please note that over time, you may observe a slight darkening of the product, which is a natural occurrence and does not compromise its performance.

By following these storage recommendations, you can confidently embrace our skincare solutions, knowing that you are taking the necessary steps to preserve their quality and achieve optimal results.
Are your products safe for use during pregnancy?

We prioritise the safety and well-being of our customers, especially during pregnancy. We're proud to share that all our products have been certified safe for use during pregnancy. However, we always recommend seeking your doctor's advice before incorporating any new skincare products into your routine while breastfeeding.

While our products have undergone rigorous testing and meet the highest safety standards, every individual and pregnancy journey is unique. Your healthcare provider is best positioned to offer personalised guidance based on your specific needs and circumstances.

We believe in empowering you to make informed decisions, and your doctor's advice will ensure that you can enjoy our skincare with complete peace of mind, knowing that you are taking the best possible care of yourself and your little one.